Privacy Policy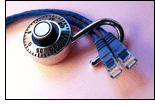 For each visitor to our Web page, our Web server automatically recognizes the consumer's domain name and IP address.
The information we collect is used for internal review and is then discarded. It will never be shared with other organizations for commercial purposes.
With respect to cookies: We do not set any cookies except on our forums. Forum cookies are only used for registered users and are not static unless chosen by the user.
With respect to security: When we transfer and receive certain types of sensitive information such as financial information, we redirect visitors to a secure server and will notify visitors through a pop-up screen on our site.
If you feel that this site is not following its stated information policy, you may Contact Us by FormMail.